Indus valley to Hemis - cultural tour
Duration: 1 day
Distance: 110 km
This one-day tour follows the Indus river up to Hemis, the largest monastery and spiritual centre for Drukpa Buddhists. On the way, you will discover beautiful hilltop monasteries, whitewashed chortens and Ladakhi farmhouses surrounded by green barley fields.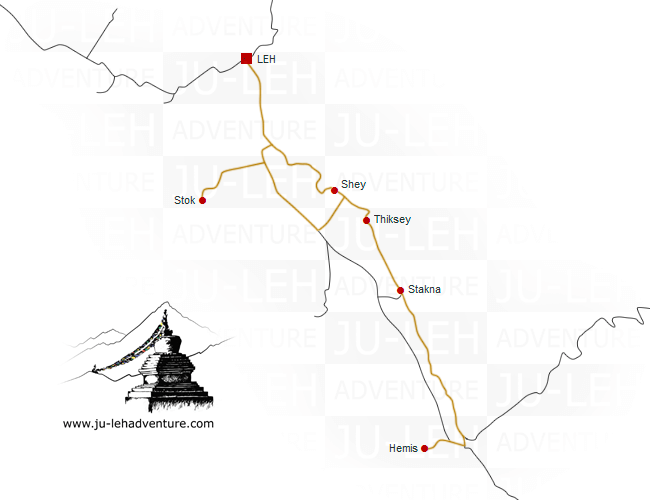 Tour Highlights
Hemis monastery
The 17th century monastery, belonging to the Drukpa order, is the largest and wealthiest in Ladakh, it is home to 500 monks. Screened from rest of the valley by a narrow gorge, it is built on a verdant hill surrounded by spectacular mountains. The main entrance open onto the large rectangular courtyard where the festival mask dances and public functions are performed. The gompa contains a 8m-tall statue of Padmasambhava (Guru Rinpoche), the founder of Tibetan Buddhism.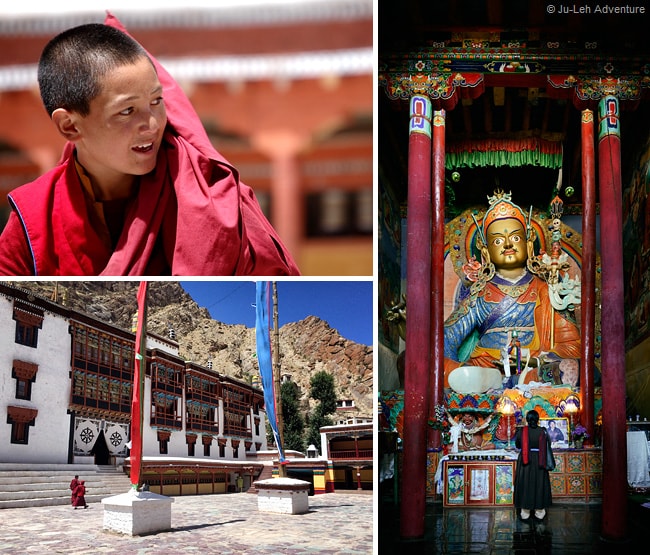 Stakna monastery
The monastery crowns a rocky hillock that rises above the Indus river. The gompa was founded in 16th century by a lama from Bhutan and the Bhutanese influence is obvious from the murals inside.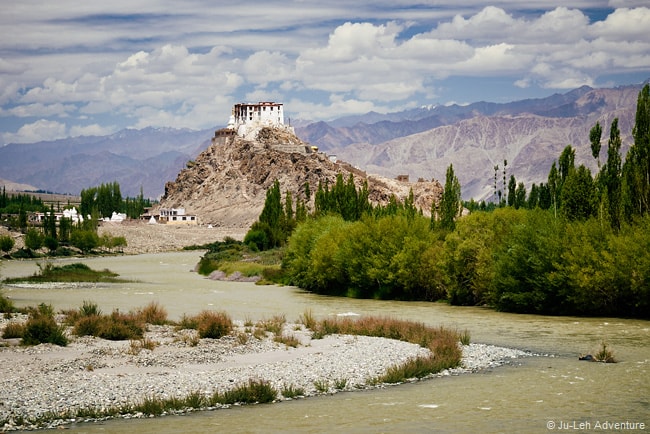 Thiksey monastery
The monastery is Ladakh's most architecturally impressive and recognisable gompa. Founded in the 15th century, its whitewashed stupas and monks' quarters rise up the sides of a rocky peak, crowned by a large ochre-and-red-painted temple complex. From the top, there is a striking panorama view of the valley strewn with chortens. The Maitreya temple, above the main courtyard, houses a mesmerising 15m-high statue of the future Buddha in a magnificent jewelled headdress.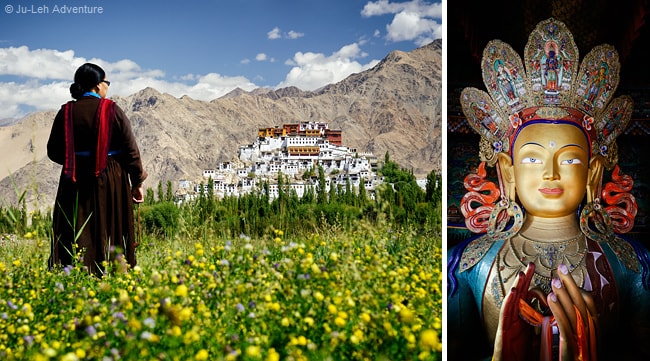 Shey palace
Shey was once the summer capital of Ladakh. The palace, a smaller version of the one in Leh, sits above the barley fields studded with whitewashed farmhouses. The palace temple contains a two-storey-high statue of Shakyamuni Buddha, installed in 1645.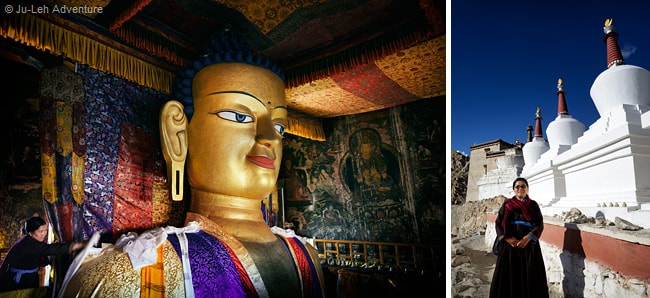 Stok palace
On the other side of the Indus river, Stok is the official home to Ladakhi royal family since they were ousted from Leh and Shey two hundred years ago. The museum exhibits ceremonial robes, jewellery, votive objects, thangkas and photos.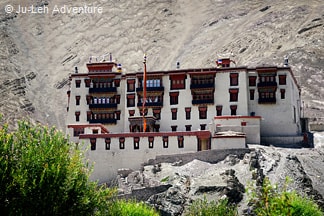 All the itineraries can be customized to suit your own special interests, preferences and timing. Please contact us for more information.