15 best restaurants & cafés in Leh
A community's cuisine reflects its culture, history, lifestyle and values. The cuisine of Ladakh is an amalgamation of influences from different countries and cultures, including Tibetan, Indian, Chinese and Continental. It doesn't matter if you are thousands of miles away from your home, because you will find something to satisfy your palate when you step into a restaurant in Leh.
Restaurants in Leh serve all kinds of cuisines that are delectable as well as perfect for a high-altitude place such as Leh. Similarly, cafés are peppered all around the town where you can sip a cup of coffee, tea, juice or shakes. If you have a sweet tooth, you can also indulge in cakes, pies and cookies.
Here's the list of our 15 best restaurants and cafés in Leh:
The Tibetan Kitchen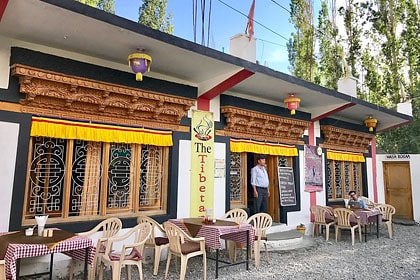 It is one of those places which is bustling with people due to its popularity. Situated in the heart of Leh town, The Tibetan Kitchen is one of the best restaurants to try local cuisines. The ambience and the outdoor seating arrangements make the whole experience of eating more enjoyable. The restaurant offers Tibetan, Chinese, Thai, Continental and Indian cuisine. While all the food on the menu is scrumptious, go for Tibetan food. Traditional Tibetan dishes like Gyako (a well-known Tibetan hotpot) are prepared on request but they have to be ordered a day before so that there is enough time to prepare the dish in the most authentic way. And don't forget to book your table in advance.
Address: Fort Road, Leh
TripAdvisor: click here
Bon Appétit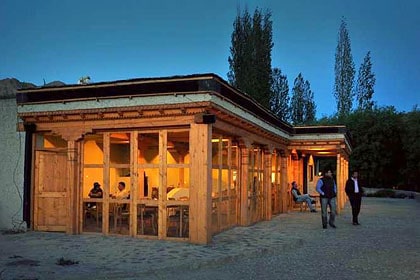 The ambience at Bon Appétit makes for a unique dining experience. The traditional architectural structure and the lush green fields overlooked by the snow-clad mountains make for the perfect setting for a meal. Situated away from the hustle and bustle of the market, it is the ideal place to satisfy your taste buds. Bon Appétit serves continental cuisine but also specialises in tandoori items. Even though the owner keeps changing the menu, fresh and local produce is always a part of the ingredients.
Address: Changspa Road, Opposite Moravian Mission School, Leh
TripAdvisor: click here
Alchi Kitchen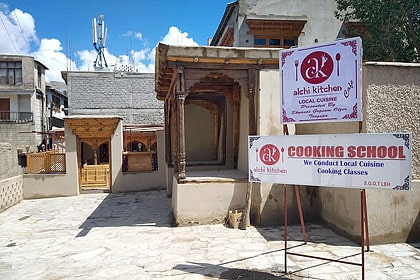 Situated in one of the oldest streets of Leh town, Alchi Kitchen is the perfect place to experience local cuisine. You will fall in love with the ambience as the restaurant has a warm, cosy, and traditional look. Alchi Kitchen serves authentic traditional Ladakhi food with a modern twist. Don't forget to indulge yourself with skyu, thukpa, chhutagi, momos, and khambir with soaked apricot. Try one of their platters, especially apricot or walnut platter. It is the first restaurant from Ladakh to offer traditional food cooking class.
Address: Kawoo House, Chutey Rantak, Main market, Leh
TripAdvisor: click here
Sky Wok Restaurant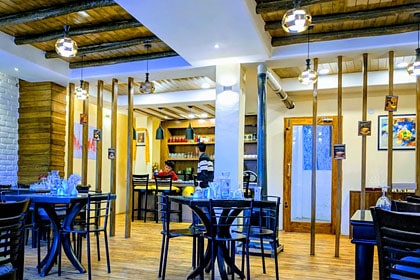 This recently-opened restaurant is already a favourite among the tourists and it is easy to see why. Sky Wok Restaurant offers a good first impression with a nice ambience, lighting, set up, and colours. This multi-cuisine restaurant also offers some mouth-watering dishes. Try their mutton and veg momos for sure. Sky Wok Restaurant also serves Thai food such as Phat Kaphrao and Khao Mangai.
Address: Main Bazaar Road, Next to State Bank of India main branch, Leh
TripAdvisor: click here
Namza Café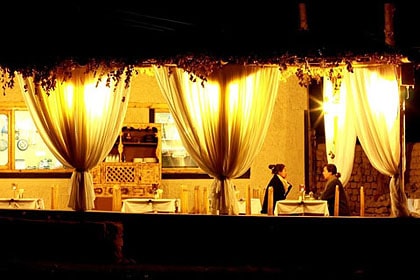 Namza boutique-cum-cafe is the ideal place to shop and to eat. You can not only purchase designer traditional Ladakhi dress, but also savour food from centuries-old recipes. You should definitely go for Yarkandi Pulao as its recipe can be traced back to the time of the Silk Route when travellers from Yarkand in Xinjiang, made the journey through Ladakh to get to India. It is a cosy restaurant that will make you feel right at home.
Address: Zangsti Road, Near Marathon office, Leh
TripAdvisor: click here
Lamayuru Restaurant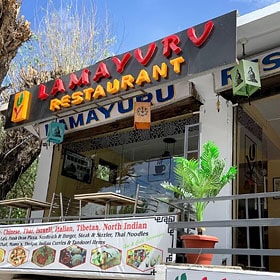 One of the best restaurants for vegetarians, Lamayuru Restaurant offers quality service and mouth-watering dishes. It serves Indian, Chinese, and Tibetan food. It is its Indian food that draws both domestic and foreign tourists. When you want to eat delicious Indian food, don't think twice before coming down to Lamayuru Restaurant. It is a lovely restaurant where you can eat alone or with the family and friends.
Address: Fort Road, Opposite Hotel Yak Tail, Leh
TripAdvisor: click here
La Piazzetta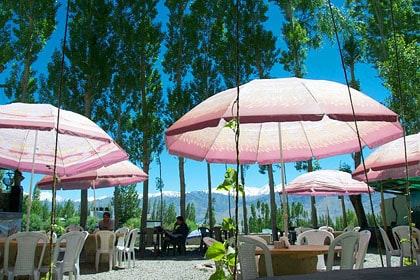 This eatery on the busy Changspa Road is a food lover's dream. La Piazzetta serves lip-smacking Indian, Ladakhi, Kashmiri, tandoori and European dishes. The restaurant is divided into three areas: one with low seats and cushions, an indoor seating area and an outdoor area. The restaurant is spacious and is a perfect place to hang out with friends. The sight of mural paintings on the walls and bonfire on cold evenings make the dining experience more enjoyable.
Address: Changspa Road, Near Moravian Mission School, Leh
TripAdvisor: click here
Penguin Garden Restaurant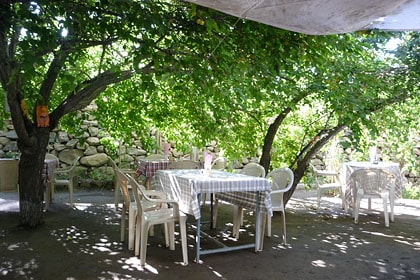 Tucked away in a corner on the bustling Old Fort Road, not many tourists know about the Penguin Garden Restaurant. However, it is a perfect place to enjoy Asian and Indian cuisines. The ambience is cosy, food is delicious and staff members are kind. The quaint garden restaurant surrounded by greenery makes for an ideal eating spot. It is perfect for tourists in a large group who are looking for ample space to savour the food.
Address: Fort Road, Leh

Il Forno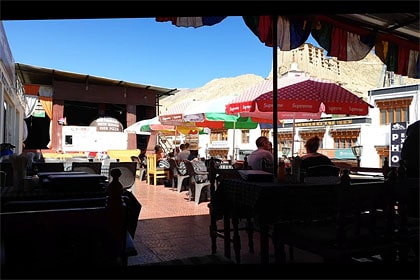 This multi-cuisine restaurant has a great ambience and offers a beautiful view of the mountains and the Leh Palace. The rooftop view from Il Forno overlooking the main street is eye-catching. It also organises live music shows on weekends. The combination of live music and palatable food makes the dining experience at Il Forno enjoyable. Although it is famous for its wood fire pizzas, Il Forno has something to satisfy everyone's taste buds.
Address: Zangsti Road, Leh
TripAdvisor: click here
Pumpernickel German Bakery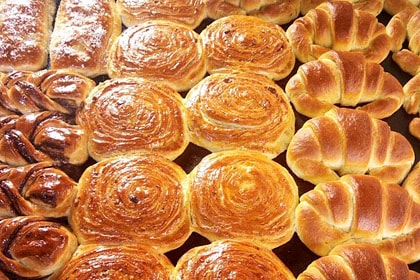 Kick-start your day at Pumpernickel Germany Bakery as this place will never cease to please you. It is the perfect place for breakfast. You can have yak cheese sandwiches and freshly-baked bread with a cup of coffee. You can also relish their coconut cookies, choco Danish, walnut and caramel cakes, croissants, apple pies and lemon cakes. You can also spend time here when it gets too hot outside to roam around.
Address: Zangsti Road, Leh

Neha Snacks

It is a small restaurant that makes up for its lack of space with mouth-watering dishes. If you are one of those Indian food lovers, then Neha Snacks is the ideal place to satiate your taste buds. It serves North Indian and South Indian food. Since the place is always packed, you might have to wait for your turn. But nonetheless, it is worth the wait. You can have paranthas for breakfast and South Indian dosas or Amritsari kulchas for lunch.
Address: Main Bazaar Road, Leh
TripAdvisor: click here
Lala's Art Café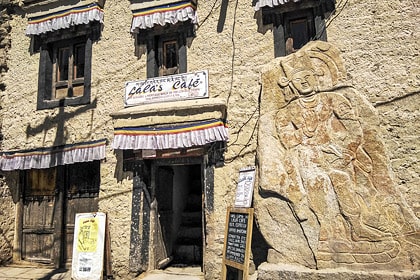 Housed in a restored traditional Ladakhi building, Lala's Art Café is the perfect place to stop for a cup of coffee on the way back from the Leh Palace. A nine-foot tall granite statue of Maitreya Buddha welcomes you at the entrance. The stairway takes you to the first floor which is a traditional Ladakhi living room. You can also go to the terrace and enjoy the glorious view of the Leh Palace. You can enjoy a cup of tea or coffee along with cakes, sandwiches and burgers.
Address: Main Bazaar Road, Leh

Coffee Culture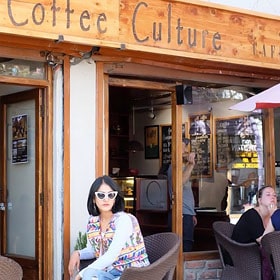 The best part about this café is the location. Located strategically at the meeting point of the busy Zangsti Road and several other streets, Coffee Culture provides an opportunity for friends or strangers to bump into each other. As a result, this café has emerged as the main gathering point for most of the locals and tourists. Coffee Culture serves coffee which is freshly roasted and sourced. You can also try their cakes and wraps.
Address: Zangsti Road, Leh
TripAdvisor: click here
Lehvenda Café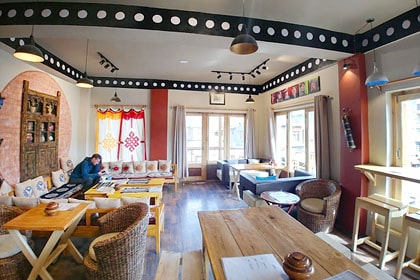 Lehvenda Café has everything that you look for in a café: a great ambience, good music, mouth-watering food and coffee, and nice sitting space. It has a blend of traditional and modern ambience and is a great place to hang out for hours. Lehvenda Café offers great view of the Leh market from the top. It has partially open and partially covered sitting area. Other than coffee and tea, it also serves momos, chowmein, pizza and burgers.
Address: Near Jama Masjid Mosque, Leh
TripAdvisor: click here
3 Wise Monkeys Café

While the majority of cafés are clustered in the same neighbourhood, 3 Wise Monkeys is a nice small and calm café hidden in the middle of the town. The owner, who is a Japanese, is passionate about cooking western dishes using local ingredients. He, with the help of his staff, prepares freshly baked cakes and also brews great coffee. Although the café offers a variety of cakes and cookies, apricot cheesecake and apricot cookies are everyone's favourite. You can indulge yourself in chocolate mud cake, coffee walnut cake or green tea biscuit. You can also try the roll cake which is so moist that it almost melts in your mouth. 3 Wise Monkeys Café serves pizza too.
Address: LBA Shagaran Shopping Complex, Leh
TripAdvisor: click here