General
Ladakh (meaning "land of high mountain passes") is a mountainous region in North India. Leh, the main city is situated at 3500m above sea level nestled in the great Himalayan, Karakoram, Zanskar and Ladakh ranges. Ladakh is known for remote mountain beauty, studded with monasteries and stupas. Ladakh is often referred as "Little Tibet" due to its geographical proximity and strong links to Tibetan culture.
Capital: Leh

Area: 98 000 square km

Altitude: altitude ranges from 2750m at Kargil to 7672m at Saser Kangri in the Karakoram

Languages: Ladakhi, Zanskari, Tibetan, English and Hindi
The predominant language is Ladakhi, it is closely related to Tibetan though is not mutually intelligible with it. A Ladakhi phrasebook "Getting Started in Ladakhi" by Melong publication is available in bookstores.

Population: 250 000 out of which 23 000 live in Leh

Religion: Buddhist (77.3%), Muslim (13.8%), Hindu (8.6%)

Climate: Ladakh is a rain shadow region of the Himalayas, the annual average rainfall in Leh is 100 mm. In summer, temperature reaches 25°C and it drops down to -15°C in winter.
The high passes are closed during winter due to heavy snowfall.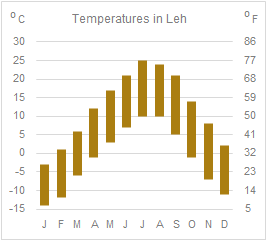 History
The first inhabitants of Ladakh were nomads who came with their yaks during the Neolithic period. Later, Buddhist pilgrims travelling from India to Mount Kailash in Tibet settled permanently in the Indus valley and brought Buddhism which emerged as the main religion in the region.

Over the centuries, the kings of Ladakh established a kingdom going from Kashmir to Tibet, guarded by forts and large monasteries.

Ladakh was frequently attacked from the west by Muslim armies (16th century) and from the east by Tibetan armies (17th century). The kingdom revived under the Namgyal dynasty who extended the realm as far as Nepal and built a new capital at Leh. During the 19th century, Ladakh was invaded by the Dogra army from Jammu and became part of the state of Jammu and Kashmir.

On 31st October 2019, Ladakh was separated from the rest of Jammu and Kashmir and became an independent state (Union Territory). Ladakh is divided into 2 disctricts: Leh district and Kargil district (which includes Zanskar).
Getting there
Delhi-Leh flights operate daily. Flights are very reliable in summer, while in winter they are sometimes cancelled in case of heavy snowfall. There are 8 flights per day in each direction. Flight tickets can become very expensive during the peak season, the best rates can usually be found on the internet and these two websites are convenient to compare the prices: www.yatra.com and www.makemytrip.com. All airlines are equivalent (Air India, GoFirst, SpiceJet, Vistara, IndiGo) so you may select the cheapest ticket that you can find.

If you opt to come or leave Ladakh by road, you can take either the Manali or Srinagar Highway. The roads are closed in winter and they usually open in May. The 2-day road trip can be done by bus or by taxi.
Acclimatization
Leh is at 3500m above sea level so acclimatization can get difficult because of high altitude. It is advisable to spend at least two days to acclimatize before you set out for your adventures. Drink plenty of water or other fluids such as soup, tea and juice.