Places to visit in Leh
Leh, the capital of Ladakh, is used as a base during a trip in Ladakh. The town itself has several historic sites which are worth visiting.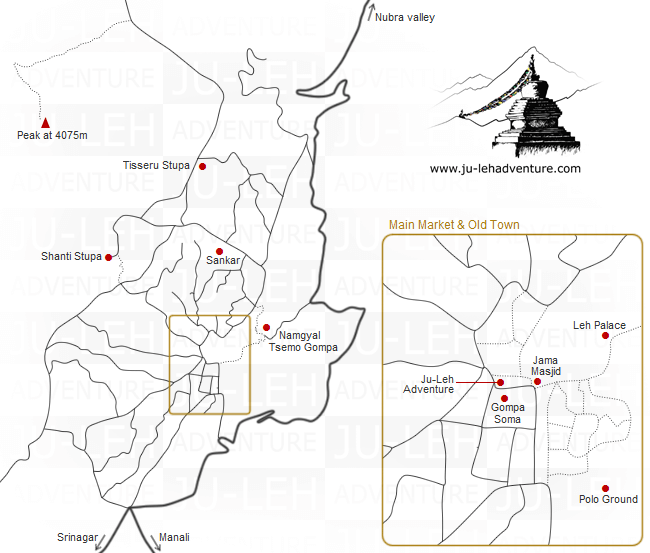 Main Market & Old Town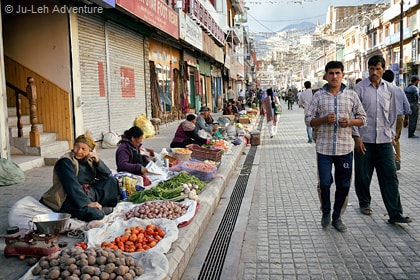 The Old Town of Leh has some important historic buildings such as the Jama Masjid mosque, Leh Palace and Namgyal Tsemo monastery. There are other gompas such as Chamba Lhakhang and Guru Lhakhang located on the hill below Leh Palace. The area has a labyrinthic network of lanes with old mud-brick houses, some of them are over four hundred years old. The Old Town is home to diverse communities. The Main Market (Main Bazaar) is a lively pedestrian street near Jama Masjid with many shops and restaurants.
Leh Palace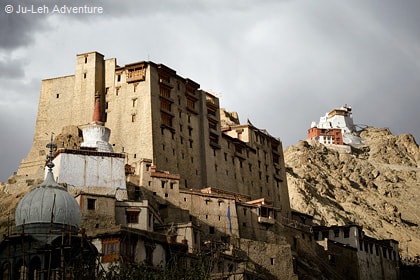 This palace, built by King Singey Namgyal during the 17th century, dominates the town. It was modelled on the Potala Palace in Lhasa, Tibet. The palace is open to public and the roof provides a great view of Leh.
Gompa Soma (Chokhang)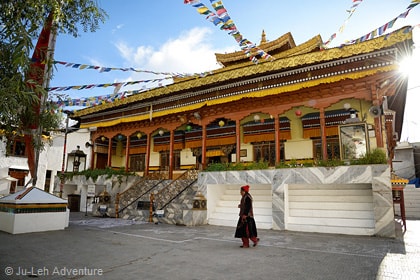 This temple is located in the heart of the town, opposite of the State Bank of India. It is the headquarter of the Ladakh Buddhist Association. The prayer hall contains a crowned Buddha (Joyo Rinpoche), a statue of Padmasambhava and many other finely decorated statues. It is always open to visitors and the best time to visit is in the morning when the monks offer prayers.
Jama Masjid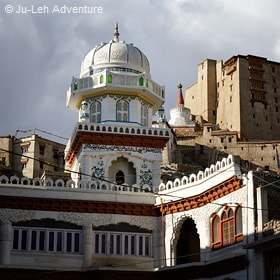 The mosque was built during the 17th century under an agreement between the Mughal Emperor Aurangzeb and the Ladakhi King Deldan Namgyal. It is the biggest Sunni mosque in Ladakh and it can accommodate 500 worshippers.
Namgyal Tsemo Gompa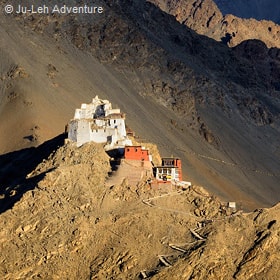 Namgyal Tsemo gompa is located on a hill right above the Leh Palace. This mud-brick monastery, built in 1430, houses a 8m-high statue of Maitreya Buddha (the future Buddha). It can be accessed on foot from Leh Palace and there is also a road up to the gompa.
Sankar Gompa
The two-storey monastery belongs to the Gelugpa order. The main prayer room features a portrait of Kushok Bakula Rinpoche, the head lama of the Gelugpa lineage who passed away in 2004. The gompa is home to 20 monks.
Shanti Stupa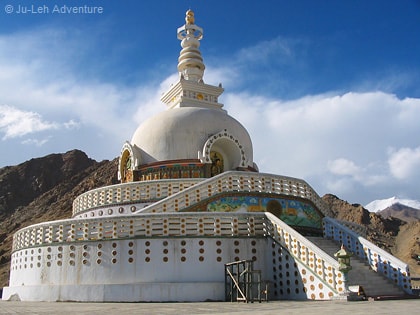 This white stupa located on a rocky hillock above Changspa was built in 1991 by Japanese monks as a symbol of peace and unity. The vast platform at the base of the stupa offers a spectacular panoramic view of Leh and the surrounding mountains.
Tisseru Stupa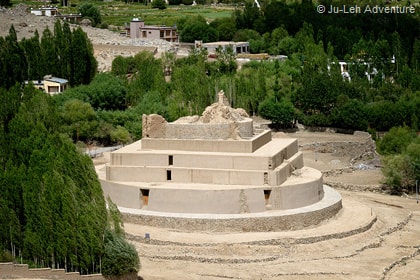 This 11th-century mud-brick stupa is the largest in Ladakh with a base diameter of 55m. It has a unique architectural style, a blend between the Indian stupa and the Tibetan Lhakhang (shrine).
Peak at 4075m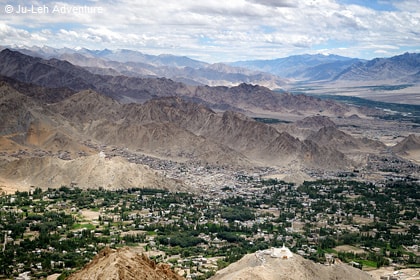 Climb up to the peak at 4075m situated north of Leh and enjoy the stunning view of the town 500 meters below. This is a perfect hike to do at the beginning of your trip to acclimatize to the altitude.
GPS coordinates:

A (3767m) - starting point
34°11'38.4"N 77°34'35.8"E

B (3850m)
34°11'30.3"N 77°34'15.4"E

C (3960m)
34°11'25.1"N 77°33'52.2"E

D (4075m) - summit
34°11'07.4"N 77°34'02.0"E

distance from A to D: 2.1 km
308m elevation gain