Traditional dresses of Ladakh
Traditional clothing plays an important role in the cultural identity of a country or a region. It is soaked deep in history and holds a significant value for the members of the society. Traditional Ladakhi dresses have also enabled people of Ladakh to protect themselves from the gruelling weather, especially winter chill. Livestock has not only provided food to the native people of Ladakh but also wool for clothing. Wool and pashmina have been used to make shawls, caps, socks, and thermals to protect the people from the harsh climate.
Ladakhi costumes have evolved continuously over a period of time. Even though traditional costumes are now mostly worn on festive occasions or during performances, the people of Ladakh take a lot of pride in wearing the traditional clothes and have preserved the centuries-old rich culture and tradition. It shows that the people of Ladakh still respect the ancestral traditions and are proud of their rich history.
Ladakhi dress: Goncha and Sulma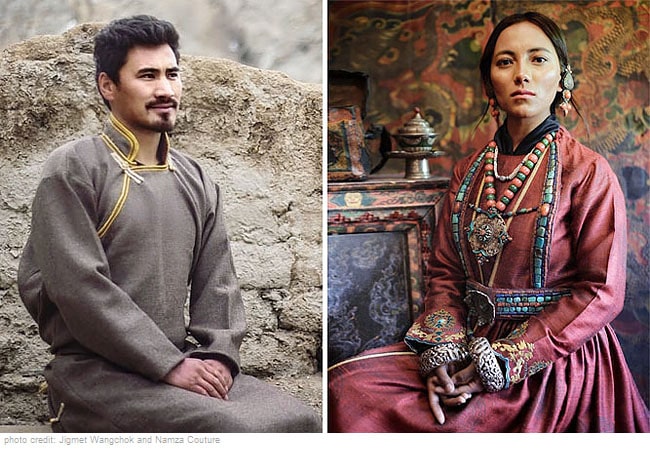 Goncha or Kos (commonly used word in Ladakh) is a voluminous robe resembling a coat made of wool, velvet, cotton, polyester, or a combination of these. Goncha is worn by males, the everyday wear is usually in black, grey, burgundy, or earthen colour. However, the goncha used during weddings is brightly coloured and is made of brocade, silk or velvet imported from Nepal and Bhutan. While the young prefer goncha made of lighter material, elders still wear goncha made of wool to protect themselves from the cold. Goncha is tied around the waist using a skeyraks or belt made of thick fabric.
Sulma is the flowing robe worn by females. Unlike the male goncha, sulma is brightly coloured and is made of wool, brocade, velvet or silk. Females use bright-coloured sash or skeyraks to tie around the waist. Sulma is stitched in such a way that it accentuates into an elegant ball gown. Sulma is often paired with tilin, a blouse made of either cotton, nylon or silk. It is loosely fitted and has wide sleeves that can be rolled up during the summer. It is plain or patterned with designs. Sulma is worn by married women and is a sign that the women have tied the nuptial knot.
Recently, the local administration has made it mandatory for government employees to wear the traditional dress once a week to preserve the rich culture and heritage of Ladakh.
Changpa nomads dress: Kos Kar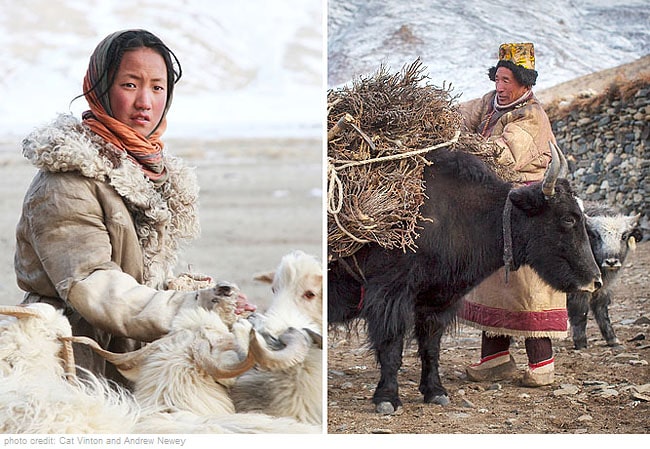 Changpas are semi-nomadic people who live in Changthang, a high plateau area which lies to the east near the Chinese border, in the Pangong lake and Tso Moriri lake area. Rife with Tibetan culture, the people of the Changpa tribe have different traditions, dialect and costume. They are easily distinguished due to their thick white robe called Kos Kar or Lawa Goncha. Since the Changthang area is colder than other parts of Ladakh, the nomads need protection from the treacherous environment and the extreme weather conditions. The Kos Kar is used by the nomads since it is made of sheep wool and skin turned inside out and is unusually warm and rugged. The shoes worn by these nomads are also made of sheep wool and skin that protect them from the cold and the challenging terrain.
The Changpa nomads herd pashmina goats which produce the world-renowned pashmina wool used for making shawls and clothing items. However, the nomads don't use this wool for themselves and they export it as raw material to Kashmir.
Cape: Yogar and Lokpa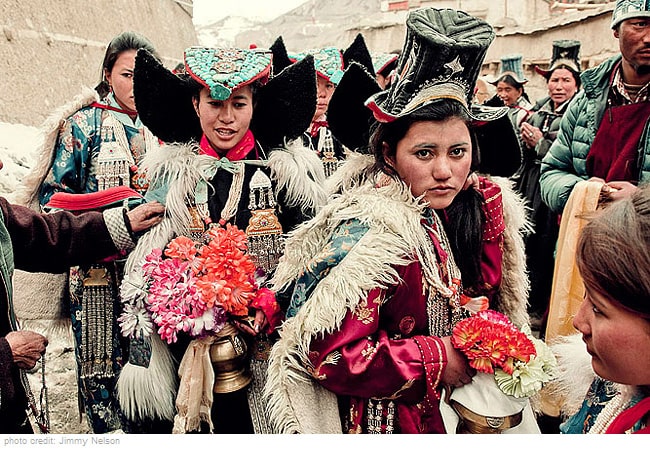 Yogar and lokpa are square capes worn by women around their shoulders to cover the back. These sheepskin-made capes are worn with the wool facing inside to keep the wearer warm. Yogar is embroidered using cotton or brocade silk with rainbow tassels and sheep wool lining to make it more appealing. Lokpa, on the other hand, is only made of sheepskin and is bereft of any design or embroidery. Yogar and lokpa not only provide warmth but also act as cushions while carrying a heavy load on the back. Yogar is used as an accessory during special occasions such as marriages and festivals. A beautifully designed yogar is called a bok.
Ladakhi shoes: Pabu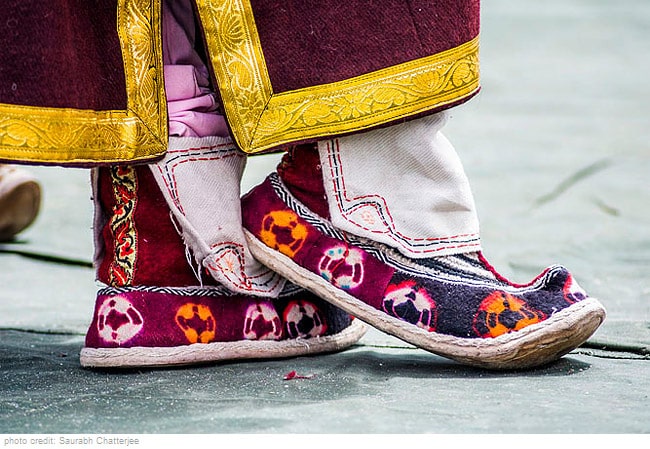 Ladakhi shoes or pabu were traditionally made for home use only and are made of woven yak hair and wool to keep the feet warm in the winter. Thikma fabric, a dye technique used on wool with a maroon base which is offset by its surface motifs in a combination of different colours such as black, white, blue, and mustard, is used to make a pabu. The insole of the pabu is made of jute whereas the outsole is made using the skin of a yak or buffalo. One of the peculiar features of pabu is its pointed turned up toe. Pabu decorated with thikma stripes on the sides is called thikma pabu.
Ladakhi hat: Tipi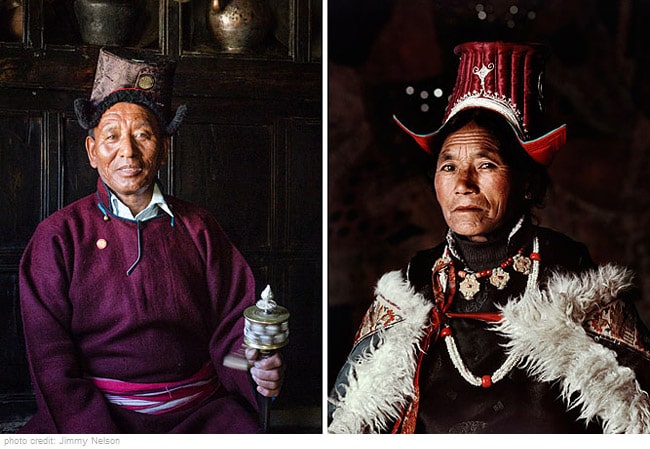 Tipi or tibi is a top hat that has upturned corners. People of the Buddhist community wear colourful tipi during functions or any special events. Tipi sits atop the head and exposes a part of the hair. It is usually made from brocade and comes out as a daring fashion statement. Women wear tipi of bright colours while men's hat is usually maroon or monochrome.
Ladakhi headdress: Perak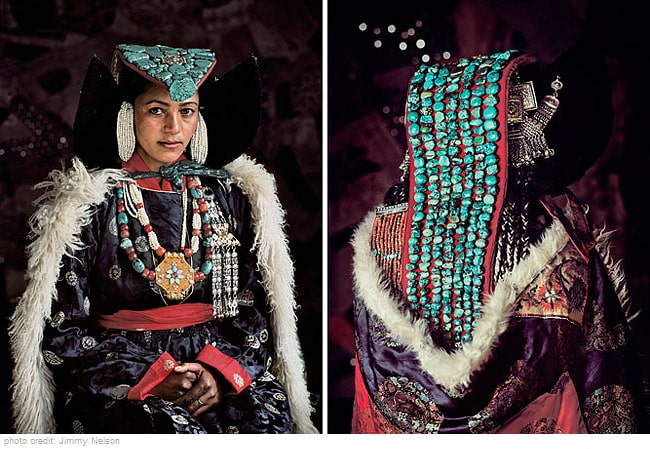 Perak is the bridal headdress heavy with blue turquoise, coral, shells and other precious stones. Perak sits atop the bride's head and expands outwards from both sides. It runs from the bride's forehead till the lower back. Black animal hair and yak felt is used to decorate the flaps. Perak is a prized possession, for it is considered a status symbol and often passed down from mother to the daughter.
Ladakhi headdress worn by Muslims: Jugin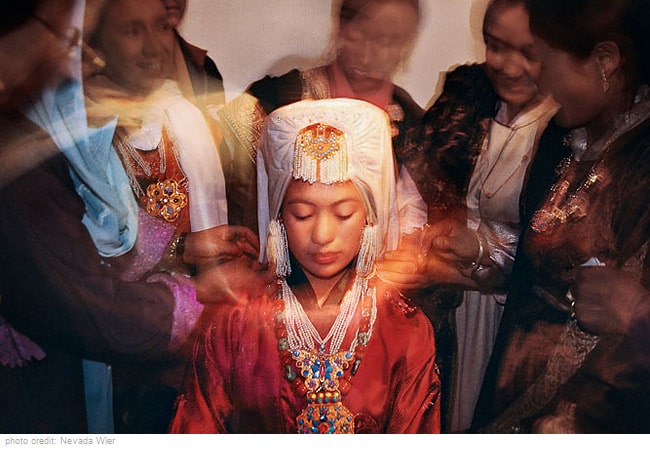 While a Buddhist bride wears a perak, a Muslim bride puts on a jugin at the head. This is the lone difference in the wedding clothes of Buddhist and Muslim brides. Jugin is made up of a finely decorated piece of gold which has tassel of white pearls dangling down on the forehead. A see-through embroidered dupatta or drape is used to cover the face of the bride.
Drokpa headdress: Tepi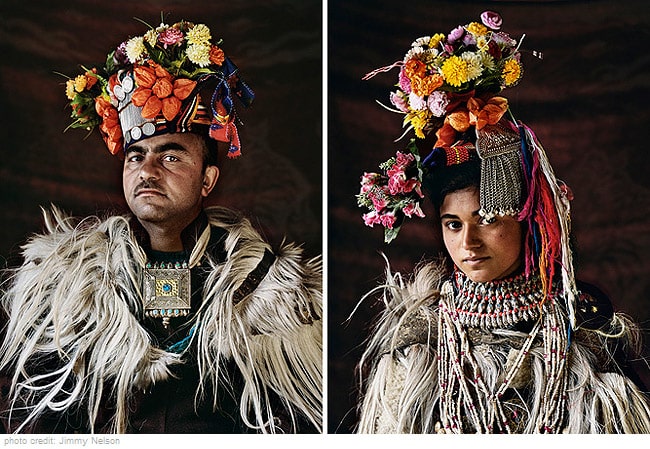 Drokpa or Brokpa tribe is said to be the last pure Aryan race and are ethnically, socially and culturally different from rest of the Ladakhi people. Drokpas live in the villages of the Dha-Hanu valley. They have a distinct culture which reflects in their clothes, especially the headdress called tepi. The exquisite headdress is a decorative silver base garlanded with fresh and dry flowers from the mountains. Although men wear a similar cap, it has metal coins along with flowers.
Zanskari cap: Serpo Tipi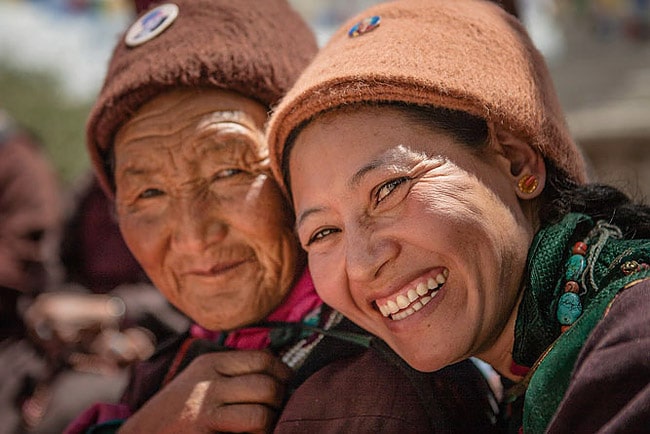 The Buddhist-dominated region to the south of Ladakh, Zanskar holds a unique place in the history of Ladakh due to its rich culture and centuries-old monasteries. While the people of Zanskar wears an identical dress as the rest of Ladakh, what separates them from the rest is the cap worn by the Zanskari women. The serpo (yellow) tipi is made of a yak felt called nambu and keeps the head warm during sub-zero temperatures in the winter. Serpo tipi gives a unique identity to a Zanskari woman.
Ladakhi amulet: Kau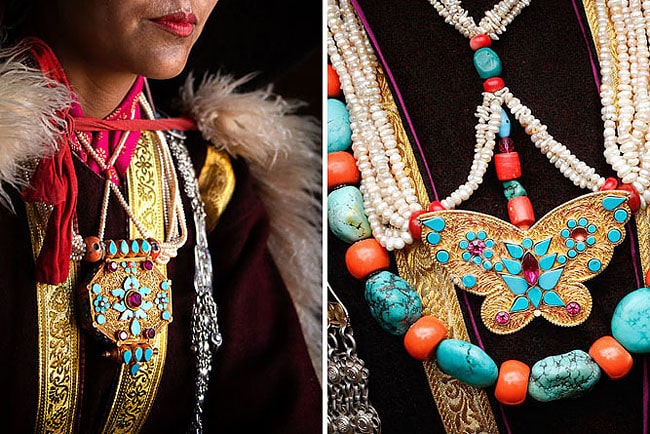 Kau or gau is a silver and gold ornament for the neck and is perhaps the second most prized possession of a bride after perak. It is an amulet embedded with precious stones and pearls. The amulet is either hexagonal or octagonal. Over the years, the amulet has gone transformation and is now being made in the shape of a butterfly. Called pema-labtse, Ladakhi bride adores it for its feminine characteristics.
Designer clothes
In this age of fashion where everything is in full transformation, the Ladakhi costume is also undergoing a change. Even though the people of Ladakh have embraced the changing trends of the world in style, they have managed to keep their traditional roots and heritage intact.
There has been a change in people's preferences compared to what they were wearing a decade ago. Those days are gone when everyone from a family would buy a traditional dress for a wedding event or festival from a tailor shop.
Now, there are plenty of options to choose from colour, designs, fabric, and style. Just think of the range of your desired fabrics available such as silk, brocade, or cloth made of yak wool. Multiple embroideries and embellishments on these fabrics add to the regality of these outfits and make ethnic wear even more attractive.
Designer houses from Ladakh such as Jigmat Couture, Namza Couture and Zilzom have displayed their work at various national and international fashion shows and earned accolades for their designs.
Jigmat Couture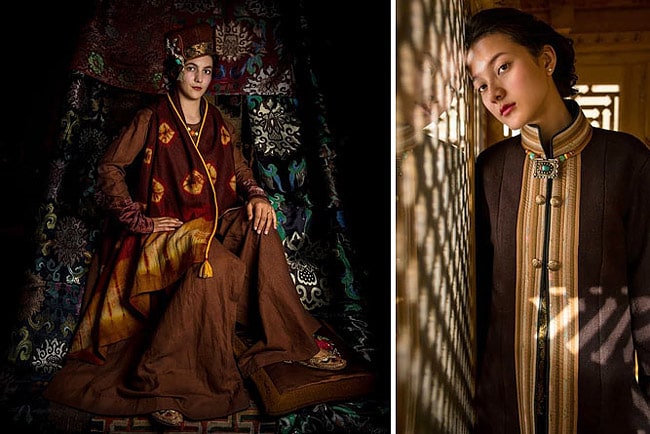 Namza Couture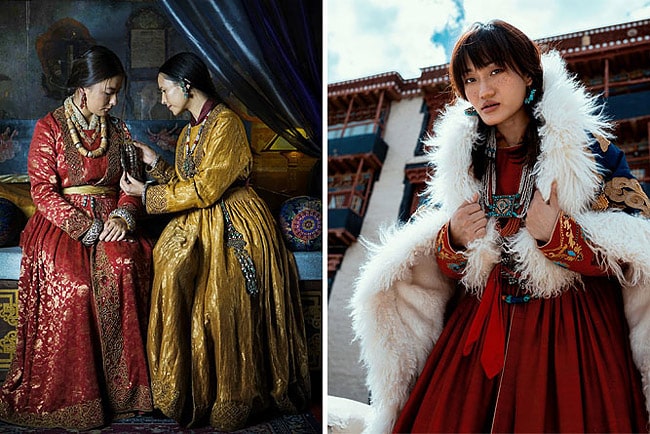 Zilzom